Oh Canada! Pool Supplies Canada is a proudly Canadian owned and operated and located right here in Canada. Feel confident in dealing with a totally Canadian company and save on shipping costs. Our freight program is designed for extremely fast delivery to your residence in Canada. Rest assured that our Pool products come backed with Canadian Manufacturer Warranties and that all products sold are certified for use in Canada. Our Above Ground Pools, Inground Pools, Pool Liners, Pool Pumps and all other Swimming Pool Products are made for the cold Canadian Winters. Have peace of mind knowing that Pool Supplies Canada works very closely with the largest and best manufacturers in the Industry including: Hayward, Zodiac, Jandy, Polaris, Jacuzzi, Aqualeader, Atlantic Pool Products, AquaPro, Interfab, Equator, Natural Chemistry, Swimline and many more!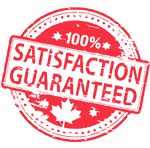 To the thousands of Canadian swimming pool owners that have experienced our quick deliveries, discounted pricing and quality brand new swimming pool products, we thank you. We are appreciative that our customers choose to make their swimming pool supplies purchases Online in Canada!
Pool Supplies Canada offers Canadian residents an opportunity to buy online direct from our Pool Distribution Warehouse. Our Pool Warehouse is stocked with over 200,000 square feet of inventory that is ready to ship to you at wholesale pricing. Our large volume buying means you save money on Above Ground Pools, Inground Pools, Pool Liners, Pumps, Filters, Heaters, Salt Water Systems, Solar Covers and all other Swimming Pool Products. Buying Canadian Online means faster shipping, cheaper freight and no customs fees.