Lock In Winter Pool Covers
What is a Lock In Cover?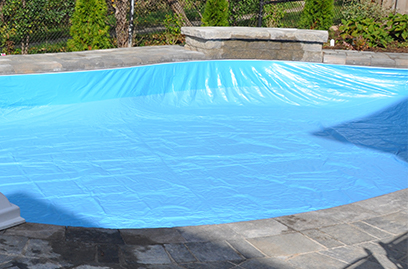 Lock in covers are light weight swimming pool covers that connect in to your copings second coping channel and keep dirt, leaves and stagnant water out of your pool, ensuring you have a clean pool come Spring time. Unlike traditional Winter covers, lock in covers provide a perfect fit for your pool shape and size.
Pool Supplies Canada is proud to offer quality virgin vinyl lock in pool covers manufactured from durable virgin vinyl and fabrene material at the best discounted prices in Canada. Our Lock In Covers are for onground and inground pools with a dual track, lock in coping channel only. If your pool does not have a lock in coping channel, a Lock In Cover will not fit your pool.
Feel confident in dealing with Pool Supplies Canada for all your lock in cover needs! When ordering custom, we have a professional vinyl measuring team on staff to help review your order with you, provide a professional CAD drawing of your pool to verify your measurements, and answer any other questions you may have.