To The Top
Finding the replacement inground pool liner of your dreams has never been easier - just select your pool shape below to see all of our 100+ in stock liner patterns, estimated pricing and start getting a quote! All of our replacement inground liners are custom made to measure, ensuring a perfect fit for your pool, regardless of it's shape, size, or depth!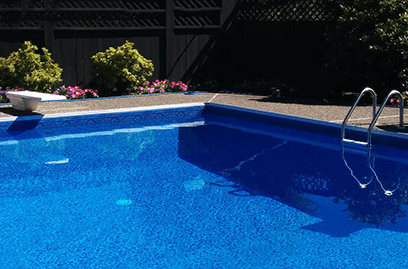 NO MORE WAITING FOR LONG LEAD TIMES - ORDER AND RECEIVE YOUR REPLACEMENT LINER WITHIN JUST 10 - 15 BUSINESS DAYS!*
* turnaround times listed online begin after payment has been made, and the order is submitted for manufacturing

Premium Gold Patterns
Our newest collection of premium 30 Gauge vinyl thickness, North American industry standard inground liner patterns, perfect for those who are looking to update their pool to have the most modern appearance.

Gold Patterns
Our widest selection of premium 30 Gauge vinyl thickness, North American industry standard inground liner patterns, any of our Gold series liners are the perfect way to add a splash of colour and elegance to any pool!

Silver Patterns
Our Silver series premium 30 Gauge vinyl thickness, North American industry standard inground liner patterns offer a wide selection of affordably priced full print patterns and bordered design options, with classic colour combinations and patterns to choose from.

Bronze Patterns
Our most affordable premium 30 Gauge vinyl thickness, North American industry standard inground liners available, our Bronze series patterns have been in our line up for several years and as a result, are tried and true - but not to worry: even at these great prices, quality has not been compromised on!
Made in Canada
Our liner patterns marked with our made in Canada symbol are manufactured in a Canadian facility in Brantford, Ontario. Feel confident knowing you're ordering Canadian product from a proudly Canadian owned and operated business!
About Our Inground Liners
Industry Leading Quality

Our custom inground liners are made from 100% virgin vinyl material with a premium 30 Gauge vinyl thickness. These vinyl inground liners are produced in North America and offer a 25 year pro-rated manufacturers warranty on seam separations.

The Largest Selection

We carry liners from the industry's leading manufacturers, including GLI Pool Products, Equator Pool Products and Findlay Vinyl! With the largest online selection of Inground liners in Canada, we're sure you'll find a refreshing new pattern for your pool - we have over 150 patterns available for order at the best prices online!

Custom Made for a Perfect Fit

We work with you to ensure that your replacement liner is made to the perfect size for your pool. After your measurements are submitted, our specialists will provide a detailed CAD drawing for verification, before any manufacturing starts.

Everything to Make Installation Easy

At Pool Supplies Canada, we want to make installing your own inground pool liner easy - so in addition to our large pattern selection, we also have the largest selection of inground pool accessories online in Canada. We sell everything to make your DIY liner installation as easy as possible!
Take Advantage of the Best Inground Liner Deals
Our inground vinyl pool liners are designed to fit your pool: it's that simple! We work with our manufacturers to develop your liner so that the manufacturer can tailor fit it to your new or existing inground pool. Each pool liner ordered from our website goes through a thorough design process to ensure a perfect fit. We have a professional vinyl measuring team on staff to help review your order with you, provide a professional CAD drawing of your pool and answer any questions you may have. If you need help, fill out the form below and a specialist would be happy to assist you!

Are you ready to get a liner quote? Fax us your completed measuring form toll free at 1-888-858-1424, or email it to liner@poolsuppliescanada.ca and receive a quote for your new Inground Liner!
Pool Service
Enter your postal code to check your area.
Page ID: 17
Page Type: empty_category