To The Top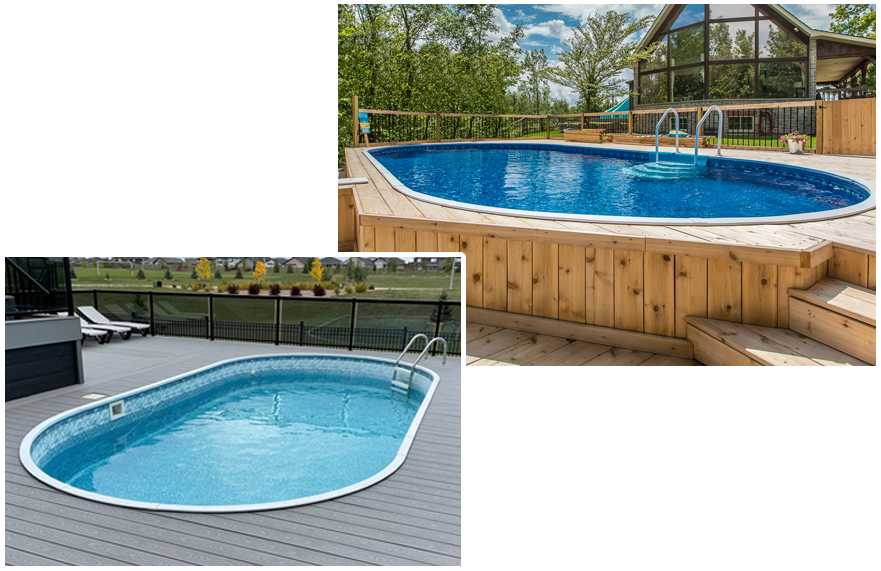 Semi Inground Pools
Get Swimming This Summer - Our Canadian Made Semi Inground Pool Kits are Available for Order Now with The Fastest Production and Shipping in Canada!
We have the highest quality and selection of semi inground pools and pool packages to fit every budget. Our Canadian made semi inground pools are perfect for families who are looking to get active, enjoy the outdoors, entertain and relax.
Combine our selection of high-quality kits with our easy pool kit creation process and team of sales experts standing by to assist you with your purchase, you'll be enjoying your new pool in no time!
Guaranteed Lowest Prices • Canadian Made • Highest Quality
Available Semi Inground Pool Shapes
Click on a pool shape below to view available sizes, pool kit pricing, and other specifications.
Get Inspired
Get Inspired! Here are some photos from our customers who have installed their own semi inground pools and transformed their yards.
About Our Semi Inground Pools
Finish It How You Want

Every semi inground pool kit from Pool Supplies Canada is not only durable, but also customizable. You can easily choose between aluminum, vinyl or wood side paneling to meet the custom exterior finish you prefer in your backyard.

Versatile & Complete System

Our semi inground pools can be installed 3 ways*: either above ground, partially above ground or fully inground. With these unique versatile options, your luxury backyard is just steps away as your pool will work in harmony with any landscape.

* Only round kits may be installed above ground; oval and kidney kits must be installed partially or completely inground.

Built to Last

Every semi inground pool kit features 14 gauge galvanized steel wall panels, backed with lifetime warranties, which ensures your pool will last season after season. Our industry-leading pools will withstand even the harshest Canadian winters and freezing temperatures.
What to Expect When Receiving a Semi Inground Pool Kit
Designed with You in Mind
Easy Do-It-Yourself Installation

At Pool Supplies Canada we only sell high quality pool products, which is why we sell steel kits made in Canada by Equator Pool Products. With over 50 years of pool manufacturing experience, Equator pool products are designed specifically for the DIY homeowner. Simply choose from a variety of pool shapes and sizes to customize your inground pool with your unique backyard dimensions and landscaping.

Most pool installation companies have other clients and deadlines of their own. They are in constant demand and need to get the pools installed as fast as they can. Sometimes they rush, which means they don't double check their work or spend the time to clean up and be courteous to your property. Although it's hard work you will probably be happier with the turnout if you do it yourself, and actually take the time to do it right the first time.

Affordable and Straightforward Assembly

Why spend money on pool installation when you can do it yourself? With the Equator Pool easy-to-follow installation guide and a little labour you will be able to save thousands of dollars by installing your inground pool yourself. We provide you with everything you need, including:

Affordable pool packages which contain all the materials, instructions and dig specs you need
Expert staff to assist you with any installation questions. We are only a phone call away and can walk you step-by-step through the process!
Guaranteed Reliability & Easy Installation
Shop With Confidence

Every semi inground pool kit from Pool Supplies Canada includes detailed product documentation, dig specifications and installation instructions, making it simple to follow along.

Learn More Online

Pool Supplies Canada's website has an extensive catalog of straightforward how to guides, blog posts and videos that can help you with your installation if you get stuck!

Get Expert Advice

Our team of inground pool specialists are here to help you with your new pool purchase, every step of the way! Simply call or email us for help from the pros at Pool Supplies Canada!
What Our Customers Are Saying
I wanted to take a minute to thank you all for the amazing service you gave me in regards to my inground pool kit and the order for the lights! I got all the lights and tiger flex this morning and we are already installing them to get ready for the weekend of back fill! Once again, thank you very much and I will continue buying from you guys and already spoke of your kits to 2 of my friends! Have a good day!

Eric

Just to let you know that our pool has been running for a month now and we are loving it! Thanks again. You people are great to deal with.

Ken and Joanne here in the boonies in NE Saskatchewan
See How It's Installed
Here are just some of the many photos we've received over the years of our customers' semi inground pool installations. You CAN do it yourself! Scroll over the images below to view more.
Let Us Know What You Think!
Did you find this helpful?
Pool Service
Enter your postal code to check your area.
Page ID: 15
Page Type: empty_category