Solar Covers

OVER 10,000 SOLAR COVERS IN STOCK READY TO SHIP!
MAINTAIN POOL WATER TEMPERATURE FOR FREE!
REDUCE POOL WATER EVAPORATION AND CHEMICAL USE!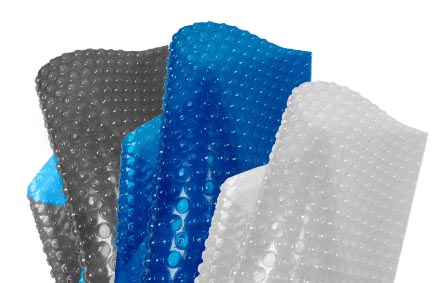 Over 10,000 Solar Covers In Stock Ready To Ship!
MAINTAIN POOL WATER TEMPERATURE FOR FREE!
Reduce Pool Water Evaporation and Chemical Use!
Browse by Pool Shape and Size
Solar Cover Performance

---
About Our Solar Covers
With a solar cover you can keep the heat in your pool for FREE! We carry a variety of solar cover styles that can help to maintain the temperature in your pool. Whether your pool is too cold to enjoy consistently throughout the summer or you're currently spending a fortune heating it, you'll be able to extend your swimming season and save money with a solar cover. Solar covers are designed for inground, semi inground (onground) and above ground pools.
Blue Sun Blanket: The 8 Mil Blue solar cover allows only the sun's blue spectrum light to reach the bottom of the pool. Blue solar sun blankets maintain a bit less heat than our other styles.
Blue/Silver Thermal Blanket: Our 11 mil thick Blue/Silver Thermal covers are made of durable resin and have thousands of tiny air bubbles designed to keep heat in to your pool. Not only does our Blue/Silver thermal cover retain the heat, it also protects against harmful UV rays, slowing the growth of algae.
Premium Clear Sun Blanket: The 14 Mil Premium Clear Sun Blanket allows full spectrum light to reach the floor of the pool and is the thickest sun cover we carry, therefore allowing it to have the best heat retention of all the pool blankets. This premium heavy duty solar cover is made in Canada.
Solar Cover Tips
Cover Deterioration: Cover deterioration can be caused by prolonged sun exposure and chemical imbalances in you pool. See our Solar Cover Warranty guide on how to prevent deterioration.
Freeform Pools: When purchasing sun blankets for freeform pools or pools with a step the blanket should be sized up by one size and trimmed to fit the area
Water Temperature: Prolonged and repeated exposure to water temperatures above 90 degrees Fahrenheit will cause the material to weaken over time, and may shorten the life of your solar pool cover. Keep in mind that the temperature at the top of the pool near the cover may be warmer than in deeper water.
Solar Cover Reel System: Using a solar cover reel system helps protect your cover and makes putting on and taking off the cover much easier!
Super Chlorination: To prevent premature wear and damage ensure you leave your solar cover off of the pool for 24 hours after super chlorinating.
What is a Solar Cover?
A solar cover or solar blanket is a large sheet of plastic that covers your swimming pool. Solar covers are designed for inground, semi inground, and above ground pools.
Solar covers trap heat from your pool heater or the sun in the pool, helping to keep the pool warm throughout the day and protecting heat loss during cool evenings.
What are benefits of using a solar cover?
Unlike other pool heaters, a solar cover helps to maintain heat in your pool for free. Other than the cost of the solar blanket, there are no associates costs to operate your blanket (like electricity, gas or propane).
The bubbles should face down into the water when you put your solar cover on.
Solar Cover Reel Systems
Solar cover reels for solar blankets make storing and deploying your solar cover simple! Pool Supplies Canada carries a wide selection of affordable solar roller systems in stock for above ground and inground pools.
Solar Heat Enhancers
Heat enhancers, such as liquid solar covers, Solar Pills and Solar Sun Rings are great alternatives to traditional solar covers for keeping your pool warm all season long! Pool Supplies Canada carries a wide selection of the most popular heat enhancers available.