Order Processing, Shipping & Transit Times
Free Shipping Eligibility
Free standard shipping is available on most orders being delivered in Canada with a subtotal or $199.00 or greater, before applicable taxes. Pool Supplies Canada will determine the best standard shipping carrier for each free shipping order, and most orders ship next day or faster. Orders under $199.00 will pay shipping and applicable taxes. Shipping fees vary by product and shipping location, and shipping fees are non refundable.
Items being shipped to remote areas are not eligible for free shipping.
What is a Remote Area?
Remote areas are determined by our freight and courier companies based on your postal code, and are typically more remote locations that are outside of their defined standard shipping regions.
Unfortunately, customers located in these designated "Remote" regions will be required to pay shipping fees during checkout, even if the subtotal of the order is greater than $199.
Enter your postal code when checking out or in your cart to determine if you qualify for free shipping in Canada.
Returns on Orders with Free Shipping
Returns do not include free shipping – return shipping rates are calculated by the freight or courier company. If an order is canceled once in transit, it is considered a return, and the customer is responsible for any applicable return shipping costs.
The cost of the outgoing and return shipping will be deducted from any applicable credit or refund.
Pool Supplies Canada Inc. will pay applicable return shipping costs only if the return is a result of our error (you received an incorrect item, etc).
Information on Freight Deliveries
If your order has been shipped via a freight service, you will need to be home to accept and sign for your delivery. If you have change the delivery address provided at the time of your order, cancel your scheduled delivery appointment, alter your initial scheduled delivery date, or are not home at the time of your scheduled delivery, an address change, re-delivery and/or storage fee(s) will be charged.
Order Processing Times
For all orders containing freight items (including heaters, slides and other oversized goods, but excluding above ground pool kits), please allow up to 15 business days for our team to prepare your order before it is shipped out.
For estimated
lead and/or shipping times
for inground pool kits or semi inground pool kits, please speak to a specialist.
This notice supersedes any normal processing and shipping times outlined below.
Normal Expected Processing time for General Goods: 1-3 Business Days (usually less)
Normal Expected Processing time for Freight Items (Heaters, Slides, and Any Other Oversized Good): 3-7 Business Days (usually less)
Normal Expected Processing time on Custom orders (Inground Liners, Custom Covers, etc): 10-20 Business Days

Product descriptions will state if they are custom items - any product not listed on our website is considered custom
How Will my Order Be Shipped?
Most orders placed with Pool Supplies Canada are shipped using Canada Post or FedEx, however, some larger items must be shipped using an LTL freight courier service to ensure safe arrival of your product. These items include, but are not limited to: Above Ground, Semi Inground and Inground Pool Kits, Pool Heaters, Large Pool Steps, Large Inground Pool Liners, Large Custom Safety Covers (25 x 50 ft and up), and Pool Slides.
Please do not book installers before fully receiving your order. Pool Supplies Canada Inc. will not be liable for any incurred charges due to booking an installer before full delivery of an order has occurred.
Pool Supplies Canada Estimated Shipping Times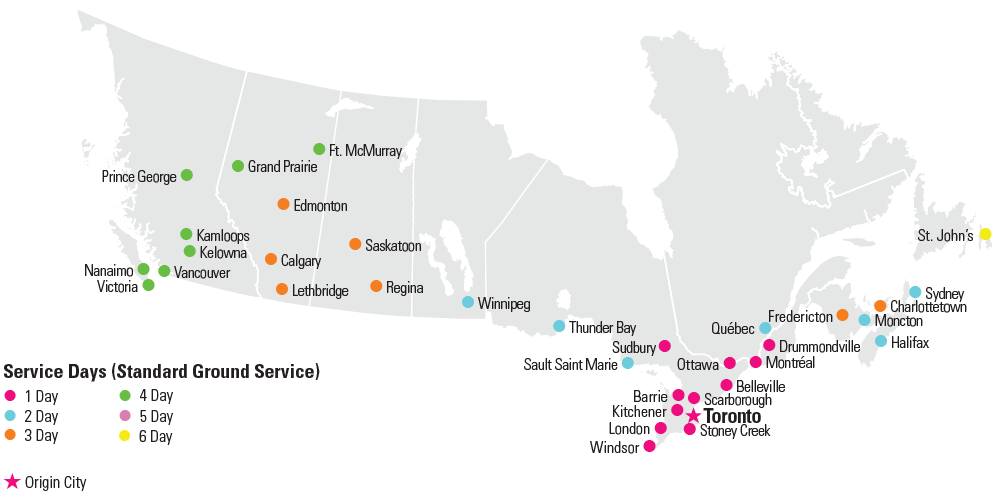 Pool Supplies Canada Estimated Shipping Times to... (
For Freight Orders - Including Pool Kits, Slides, Heaters, and Other Large Items - Please see the Foot Note

)
British Columbia
Vancouver Island**
Vancouver + surroundings area*
Southern British Columbia*
British Columbia**
Shipping Time
4 Days
4 Days
4 Days
5 Days
Alberta
Edmonton + surrounding area*
Calgary + surrounding area*
Alberta**
Saskatchewan
Saskatoon + surrounding area*
Regina + surrounding area*
Saskatchewan**
Manitoba
Winnipeg + surrounding area*
Manitoba**
Ontario
Southern Ontario*
Thunder Bay + surrounding area*
Northern Ontario**
Quebec
Montreal + surrounding area*
Quebec City + surrounding area*
Quebec**
New Brunswick
Moncton + surrounding area*
Saint John + surrounding area*
New Brunswick**
Newfoundland & Labrador
St. Johns*
Newfoundland and Labrador**
*Freight orders add 3-5 days to estimate
**Freight orders add 4-7 days to estimate
The above are estimated shipping time determined by the shipping companies online transit estimation tools - these do not reflect actual transit time. All freight deliveries are curb-side service only. Freight shipments include, but are not limited to, above ground, inground and semi inground pool kits, slides, large covers and/or liners, and large pool steps.