The Carvin Magnum 1.5 HP Inground Pump with Ring-Lok™ is an exclusive, efficient locking system that allows quick and easy access to all elements requiring maintenance without disturbing the plumbing fittings. It features a floating washer between the closed impeller and the multi-valve diffuser that ensures improved efficiency and performance for maximum pressure and flow. The Magnum's housing is molded from a single reinforced, corrosion-resistant thermoplastic piece with two drain plugs for easy winterization, and features a 183 cubic inch (3000 cm3) pre-filter. The Magnum's mechanical seal features identical ceramic and carbon surfaces, and all other components are made of BUNA-N rubber and stainless steel. The Magnum's seal is heat and leak resistant.
Product Name:
Carvin 1.5 HP Inground Magnum Pump
Compatible with:
Inground Pools
Connection:
2 Inch Female Threaded
Basket Size (Inches):
5.8 Length X 8.75 Width
Features:
1.5 HP Inground Pump
Patented air-cooled heat-sink allows pump to run dry without damage to shaft seal
Exclusive dual Ring-Lok™design gives "tool free" access to strainer basket and pump internals
208 cu. in. (3411 cm3) heavy-duty strainer basket with exclusive priming tube for superior priming capabilities
Exclusive flap prevents debris in the pump strainer, skimmer basket and filter from flowing back into the pool. The flap also prevents residual hot water in the heater from flowing into filter and causing damage to grids, valves, gaskets etc
Internal ribs in large strainer basket assure flow, even when filled with leaves and debris
One-piece case eliminates bolts and gaskets and provides for quiet operation, yet no tools are required for disassembly
Floating eye seal between closed impeller and diffuser maximizes efficiency
Maximum water temperature 104 °F (40 °C)
Energy saver motor standard on all single speed pump units
5" basket
Voltage: 115/230V
2" Unions
Unconditional 1 Year Warranty Against Seal Failure
Product Warranty: 2 Year Manufacturer's Warranty.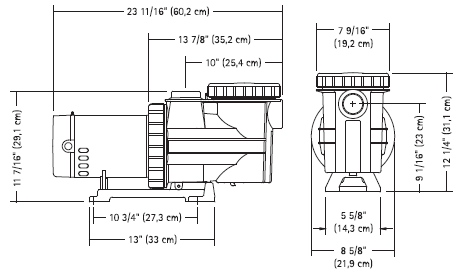 Warranty Coverage: At the manufacturer's discretion. Limited warranty covers replacement parts and labour, if the pump is installed with a pool or spa. the Applicable Warranty Period is two (2) years from the Purchase Date for labour, and two (2) years from the Purchase Date for parts. Please see product manual for specific warranty details.
Start a Warranty Claim:To begin a claim please email the model number, serial number, photo/video of the issue, and a detailed description of the issue the pump is experiencing to customerservice@poolsuppliescanada.ca.