Product Name:
Jandy Flo Pro Variable Speed Pump without Controller (1.65 HP)
Product Code:
VSFHP165AUT
Compatible with:
Inground Pools
Horsepower:
Up to 1.65 HP
Connection:
2 Inch Union Slips
Reduce energy costs up to 90% with the ENERGY STAR® qualified VS FloPro™ 1.65 HP variable-speed pump
This high-performance, ultra-compact pump fits in small equipment areas and includes a variable-speed, energy-efficient motor that significantly reduces energy costs. This Jandy Variable Speed FloPro Pump does not include a digital controller, but is compatible with the JEP-R controller unit or Jandy automation controllers to take advantage of 2 speed timer settings and 8 total adjustable speed options.
This ultra-efficient pump is made of corrosion resistant materials which allow long-term performance and longevity. Universal two inch unions are included for easy installation and service, and an ergonomic easy-transport handle makes moving this pump a breeze. Servicing this pump is very easy too, thanks to the high profile, easy-grip handles located on the pump lid ring.
The FHP 1.65 HP Variable Speed Pump Features:
Totally enclosed fan-cooled (TEFC) permanent magnet brushless DC motor for cooler operation and extended motor life
Advanced motor design allows VS FloPro to run at lower speeds for significantly quieter operation and increased energy efficiency
High performance in an ultra-compact body, allowing it to easily fit in small equipment areas
Compatible with JEP-R controller unit and Jandy automation controllers
2" thread, 2" unions
3" external glue
2" internal glue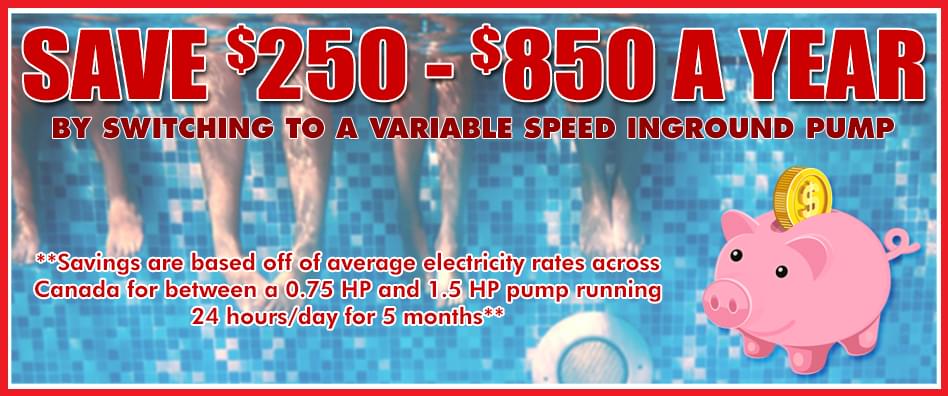 Warranty Coverage: At the manufacturer's discretion. Limited warranty covers replacement parts if the pump is installed with a pool or spa. The applicable Warranty Period is one (1) years from the Purchase Date. Please see product manual for specific warranty details.
Start a Warranty Claim:To begin a claim please email the model number, serial number, photo/video of the issue, and a detailed description of the issue the pump is experiencing to customerservice@poolsuppliescanada.ca.