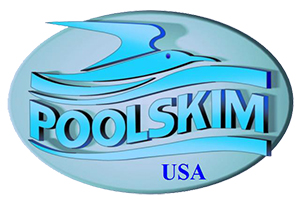 Poolskim USA
The PoolSkim was invented by George Danks (Quality Pumps and Products) and Henry Spradbury in South Africa. Unfortunately, Henry was killed in an automobile accident before the first production run. It was left to his family to realize his dream.
We are proud to say that the PoolSkim has been accepted by Swimming pool professionals around the world. The PoolSkim received critical acclaim by winning a gold medal at the worlds largest invention show: INPEX in 1996 at Pittsburgh, Pennsylvania
The award-winning PoolSkim connects to your inlet return fitting and uses the power of the water returning to the pool to create a venturi suction that draws all floating debris from the entire area of your pool -- even where debris collects in dead spots.
Leaves, helicopters, insects, bugs, spiders, grass clippings, hair, pollen...even dust are drawn to the PoolSkim like a magnet and collected in a sturdy nylon mesh clip-on bag.
The patented design of the PoolSkim sets it apart from most automatic pool skimmers in debris removal and durability. The PoolSkim effectively removes debris from all areas of any size pool, while improving circulation. Constructed of high-quality polyurethane and PVC pipe connectors, the PoolSkim will last season after season.