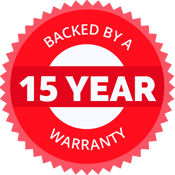 Step up to the Supreme Silver Winter Cover! These premium quality winter covers feature a heavier 12 x 12 weave per square inch coating and a quad stitched scrim line. The superior strength of the Supreme Silver Winter Cover gives you a more durable option to choose when covering your pool this winter. All Supreme covers are treated to provide maximum resistance to damaging ultraviolet rays, which inhibits deterioration, prevents tearing, and increases the cover's longevity and lifespan.
Features:
Keep your pool free of dirt, leaves, and debris
Stop chemical loss through evaporation
Prevent algae growth over the Winter season
Protects your pool from Winter damage
Makes pool opening in the Spring simple and clean
Specifications:
Quad stitching with a scrim line and thick, 12 x 12 bound weave
Both sides of the cover have 3.24oz lamination for UV resistance and increased lifespan
Round and Oval covers include a winch and coated cable to secure the cover to the pool
Rectangle covers have water bag loops to secure the cover around the outside of the pool
Every cover comes with additional material (round and oval covers have a true, 4 foot overhang, and rectangle covers have a true, 6 foot overhang) to ensure your pool is fully covered during the off season
Manufacturer's warranty: 15 years (3 years full) - Against seam separations only. This warranty does not cover any punctures, tears, excessive abrasion, pest damage, etc.