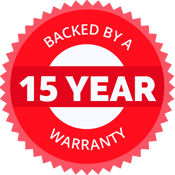 Protect your above ground or inground swimming pool with the new heavy duty, Premium HD Tan Winter Cover. It is made with the heaviest-duty and strongest rip-proof polyethylene fabric available for pool covers. The tan coloured material is reinforced with 14 x 14 threads per square inch for maximum strength, and the material used is 50% stronger and also lighter than other comparable covers. The premium-quality marine grade 1.5 inch binding along the perimeter of the cover further protects against wear and tear.
Features:
Made from high-density, rip-proof polyethylene material
14 x 14 scrim count (threads per square inch) for maximum strength
Top surface is protected to resist damage from UV rays, and the under side of cover is black to prevent algae growth
Perimeter boasts heavy-duty binding to prevent wear and tear
Round and Oval covers include a winch and coated cable to secure the cover to the pool
Rectangle covers have water bag loops to secure the cover around the outside of the pool
Every cover comes with additional material (round and oval covers have a true, 4 foot overhang, and rectangle covers have a true, 6 foot overhang) to ensure your pool is fully covered during the off season
Manufacturer's warranty: 15 years (3 years full) - Against seam separations only. This warranty does not cover any punctures, tears, excessive abrasion, pest damage, etc.