To The Top
Oval Inground Pool Packages
Need the pool, liner and skimmer only? Call and speak to a specialist today for more information and pricing.
Pool Size
Technical information
Basic Package
Complete Package
14' X 28' Oval
16' X 32' Oval
18' X 36' Oval
20' X 40' Oval
*Shipping and taxes not included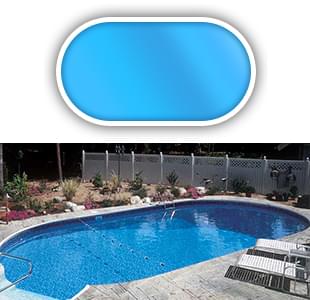 Our basic and complete pool packages are designed to create an easy decision making process for prospective pool owners. At Pool Supplies Canada we take pride in the quality of the materials, liners and equipment which make up our inground pool packages.
Choose from our fantastic variety of designs and liners in a way that is simple and enjoyable and soon you will be making a big splash with all of your friends and family.
Our inground swimming pool kits feature:
Top quality G235 (Z720) zinc-coated 14 gauge galvanized steel wall panels with "Z" rib internal supports for optimum strength
5 inches wide top and bottom flanges - the industry's thickest and most rugged - for additional support, with a standard wall panel height of 42 inches
Straight and curved wall panels with 7 strategically located holes at both ends to ensure positive and accurate alignments
End panels with recessed ends for seamless panel connection
Unique, heavy-duty notched A-Frame that provides unparalleled strength and durability

Page ID: 45
Page Type: empty_category